HMA Insurance joins with Volunteers of America to help struggling military Veterans put life back together.   We are all aware of the growing homeless crisis, but we never really stop to consider how many families and individuals on the streets are military Veterans.  Veterans who have given of themselves to protect our right to freedom.  With the challenges of mental health issues, unemployment, and drug addiction, it has become increasingly difficult for our local Veterans to put life back together.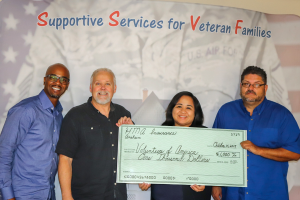 Volunteers of America is an organization committed to providing the resources and support for military Veterans to move from the streets to sustainability.  We chose this organization because their belief aligns with our belief… "being there for people in their time of need."   Our involvement with Volunteers of America gives HMA Insurance an opportunity to make a real difference in our community by helping local military Veterans.
We will be working with Volunteers of America on an ongoing basis to support them in their efforts.  We encourage you to take a moment to connect with us to find out how you can join us in this amazing cause.  Also, be on the lookout for information on our "drop some pounds in the New Year" clothing drive.  A drive for new or gently used professional attire to help our local Veterans dress for the workplace.