At Hall, Mahar & Associates Insurance Services, Inc. (HM&A) we've always believed in choices, which is why we work with over 75 different carriers to find our clients the best coverage at the most affordable rates. Being an Independent Agent allows us to shop your insurance with multiple carriers and work for you to find the best solution for your individual needs.
By choosing HM&A as your Insurance Agent, you'll also be supporting a local small business that's been in Orange County since 1965.
In this day and age, it's more important than ever as a small business to get the support of the local community. This is exactly why we are asking for you to choose us and support your local Independent Insurance Agent.
Our competition spends millions of dollars each year to make you think that all you have to do is go online and buy a cheap policy from them, but we couldn't disagree more with that idea. Our licensed Independent Agents take the time to get to know you and make sure that you're not just buying a policy, but that you understand how that will protect your family or business.
Let's face it, you get what you pay for so rather than just looking for the cheapest price, we'll shop it around on your behalf to find the best value. By working with so many carriers, we're able to not only find competitive rates, but also find value in the carrier's coverages to compare.
Why do business with HMA Insurance?
Unlike a captive, or direct insurance company who only offers their own proprietary products, our agency is 100% independent of any one company. Many insurance consumers don't fully understand just how important that really is.
When it comes to something as important as insurance, it's imperative that you work with an agency who has an in-depth knowledge of multiple insurance products, companies, and guidelines — not just one.
At the end of the day, what separates one agent from another, is their ability to proactively service their policy holders, and their knowledge of the insurance industry, products, and different situations that may present themselves to their clients.
Independent Agent Vs. The Rest
Here is a quick comparison of the differences between an independent agency like us, and the various other types of companies that are out there: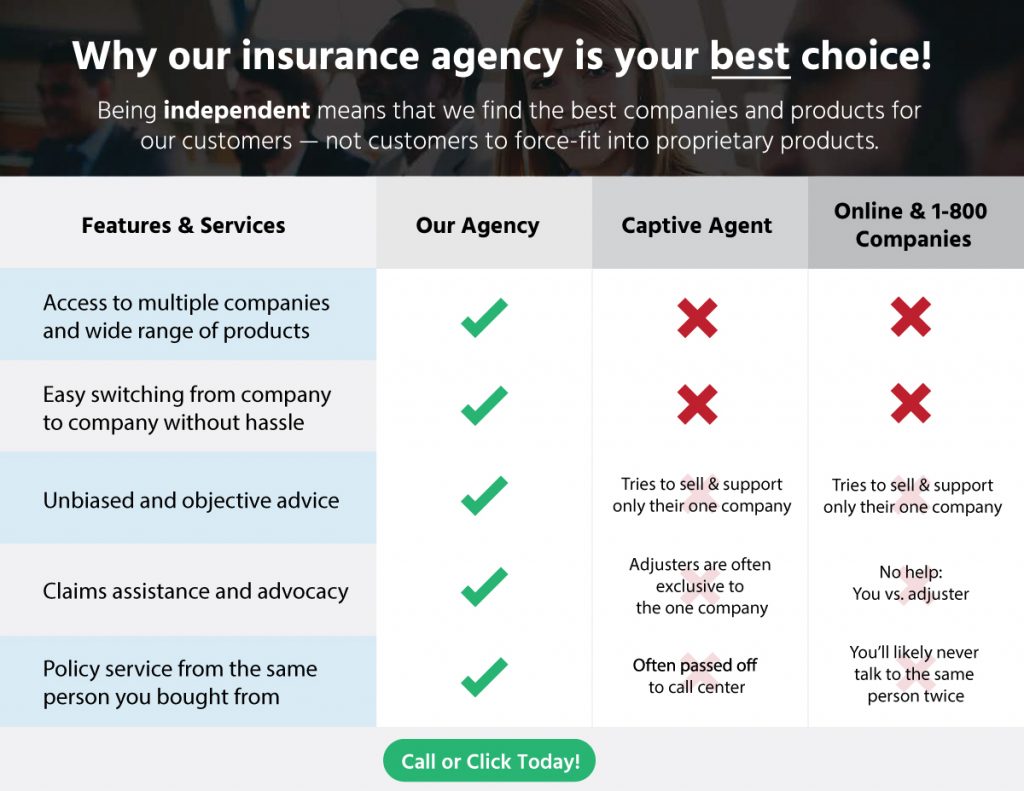 If you'd like to get started with a complimentary quote and/or policy review, we'd be happy to help you any way we can. Simply complete the fields below to get started online in a matter of seconds.
We appreciate the opportunity to help you, and look forward to servicing your insurance needs! Feel free to call us directly if you have more detailed questions.