Most Americans think that buying life insurance is a good idea.  However, very few Americans take advantage of their window of opportunity to get the protection that secures their family's financial future.
Just for a moment, I want you to imagine your family's life without you. What debts would you leave behind? How would your family live? Where would they get money from to them deal with losing you?
Life insurance has always been designed to be a part of a strategy   
Every family has dreams and objectives that they work toward.  Some of those are: owning a home,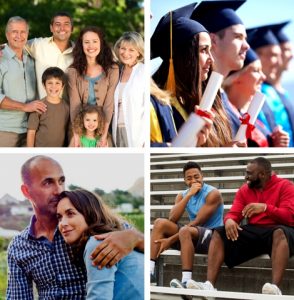 sending children to college, enjoying a comfortable retirement. Life insurance can help keep those dreams alive.
Life insurance has always been designed to be a part of a strategy to support a family's ability to continue financially in the event of a loss.  The income tax-free benefit from life insurance creates an "instant estate" providing money for your family to continue working toward the dreams that you shared in the event of your death.
Here are the top 5 things peoples do with money from life insurance:
Pay off mortgage and debts
Replace the income of the deceased family member 
Pay medical and/or funeral costs
Fund education for surviving family members 
Leave an inheritance for children and grandchildren
All these things are meaningful and can be accomplished when the right type of policy is in place to protect your family.
Money could never replace the loss of your life
Every day families are making decisions to try and improve their quality of life without ever considering life insurance as part of their plan.  We know that money could never replace the loss of your life, but it can provide the financial support your family would need to continue with life, the way you would want them to.
Protecting the future of the ones you love
The people who depend on you for their everyday existence also depend on you to protect their financial future.  The top 5 things on this list are not just for wealthy families to be able to do, it's something that all families can do.  Life insurance is not a mere policy you pay for, it is an investment in making sure your families financial future remains secure in the event of your death.
To make sure your loved ones have the security they deserve. Click here to learn about the 2 categories of insurance policies that exist to support your family's financial needs. 
We are HMA Insurance, we believe in being there for people in their time of need.  We accomplish this through insurance products that help us provide the financial protection our clients need and deserve.